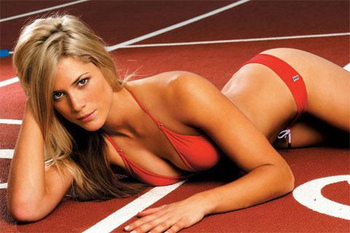 2011 is not even through yet and we have already had to deal with more hassles in sports than any fan would ever want to deal with. The NFL gave us a scare but ended its' lockout at the last minute while the NBA had to cancel several games until an agreement could be made, and one should be made within the next few days.
That is old news, it is time to look ahead into the next year, 2012. Next year will be a huge year for sports, the Summer Olympics are set to take place in London.
How about we take a glimpse into the future and take a look at some of the sexiest female athletes on tap for a big year in sports. Some of them you might already know, others you might be hearing about for the first time. Either way, here are the 25 sexiest athletes to watch for in 2012. Enjoy.
25. Yanina Wickmayer: Tennis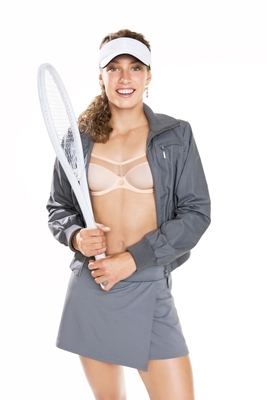 At 22 years of age, this Belgium tennis star has shown us signs of just how good she can be. Back in 2009, she came very close to winning the U.S. Open, but lost in the semifinals to Caroline Wozniacki. She has been ranked as high as 12th by the World Tennis Association and is currently sitting at 26th.
In 2011, she went further into the Wimbledon Championships (fourth round) than she has ever gone in her career, losing to the eventual Wimbledon champion, Petra Kvitova.
With the combination of age, experience and close calls, she is always on the cusp of that next level—2012 could be that year.
24. Jennifer Suhr: Pole Vaulter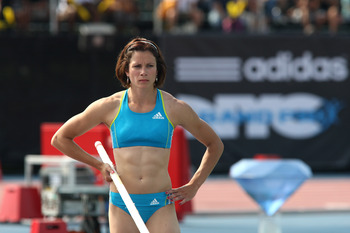 Victah Salier/PhotoRun.NET
Have you ever attempted to pole vault? Those women on television always seem to make it look so easy, but it is one of the toughest sports to compete in.
The United States will be well represented in London this year with women like Jennifer Suhr in the mix. She is a pole-vaulting guru and gives the U.S. their best chance of medaling in the pole vault. She won a silver medal in Beijing back in 2008 and should be bringing home some gold in 2012.
23. Mariel Zagunis: Fencing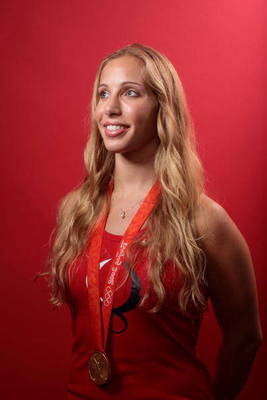 How is Mariel Zagunis still a secret? How has no one heard of her yet?
Mariel is a fencing beast. She does not know how to lose at the Olympics, as she has won two gold medals over the past two Olympic games in the Individual Sabre category of fencing. She is only the second woman in USA history to win a gold medal in fencing, and has done it twice.
Does anyone else stand a chance in the ring, or whatever they call it? 2012 is going to be a Zagunis-type of year when she wins another gold medal and people finally take notice.
22. Vitalia Diatchenko: Tennis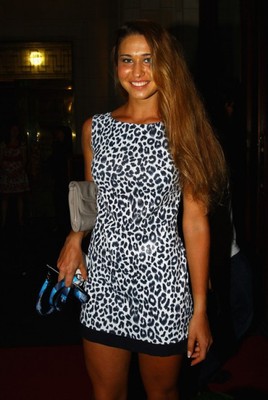 How can a beautiful young woman, whose highest WTA ranking is 105th, be considered someone to watch in 2012?
Well, first of all, she is smoking hot. Did I mention that? But she is also the next big thing to come out of Russia. She is just starting to hit her stride in the WTA, and at 21 years old, she has nothing but time on her side.
21. Alicia Sacramone: Gymnastics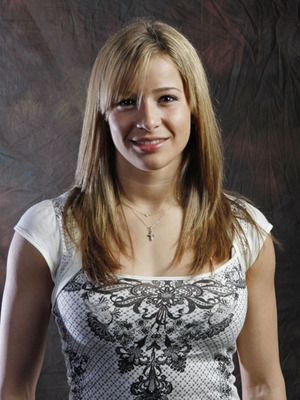 Following an appearance in ESPN The Body Issue, Alicia Sacramone was beginning to become a household name. Not too many people remember her domination of the balance beam at the World Championships in 2010, making up for all the negative media she garnered following the 2008 Olympics where she fell on the floor routine and the beam.
Uh, does that matter to me? Nope! As long as you can stick it to the critics, step back onto the floor and destroy the competition, it is all good in the hood.
Unfortunately, she recently suffered a torn Achilles tendon and could miss the 2012 Olympics. If she recovers in time, 2012 will be a great year for her and we might end up wanting to see more by 2013.
20. Caroline Wozniacki: Tennis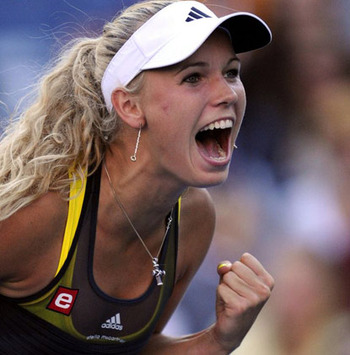 I would consider 2011 the year of the Wozzy, but she still has more growing to do in the sports world before we can call her elite.
Caroline Wozniacki is the best tennis player in the world, according to WTA which have her ranked No. 1. She has never won a Grand Slam tournament. That is about to change in 2012. She is finally rolling through the competition and will be a force to be reckoned with in 2012. She will, I repeat, she will win at least two Grand Slam tournaments next year.
Bold prediction? Sure, but she has the skills to get it done in 2012.
19. Petra Cetkovska: Tennis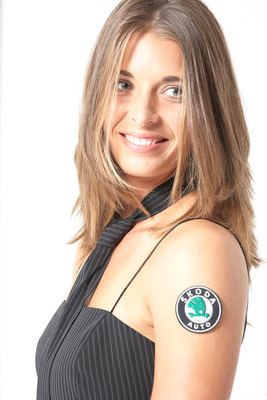 There is nothing sexier than a female tennis player with a sexy accent. Petra Cetkovska, The Czechian Assassin, is one of those women. She lives in France but speaks with that curiously sexy Czech accent.
She has been a professional since 2000 and is set to turn 27 in a few months, so why recognize her now, you ask? She has never won a WTA tournament but she has shown us she can beat anyone. She upset Li Na in New Haven a few months ago and Ana Ivanovic.
You will be thanking me later in the year when you notice her name scroll across the ESPN scoreboards.
18. Kelly Sotherton: Track and Field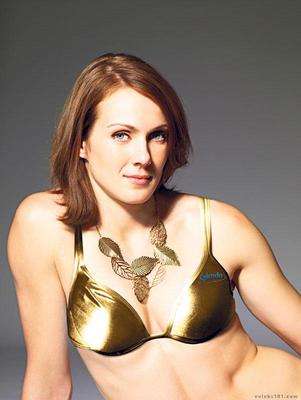 No one loves Kelly Sotherton in Great Britain. Not her coach, teammates or the press. Following an injury to her back after the 2008 Olympics, where she won a bronze medal in the Heptathlon, she has been doing everything she can to bring home a gold medal for herself and, most importantly, her country.
She has a story that we all want to read about. If she wins a gold medal in 2012, she will have her rise to the top. It is fate. She is the blindside of the Olympics and everyone loves a good story to cry about. This could be hers.
17. Natalie Coughlin: Swimming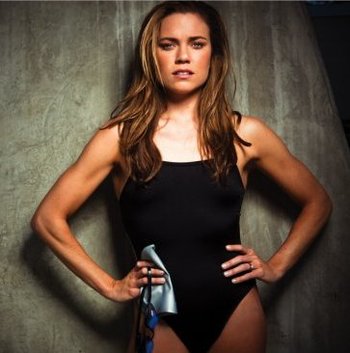 How many gold medals can Natalie Coughlin win before she finally hangs up the swimsuit?
All she needs to win in 2012 is two. That is the magic number for Natalie to become the most decorated female athlete in U.S. Olympic history. That is not just swimming—she only needs one more to take that title.
She has the talent, now all she needs are the medals.
16. Vicky Pendleton: Cycling
When it comes to track cycling, Vicky Pendleton is one of the best of all time. She has more gold medals than Lil' Wayne, and she has earned them in the past few years, including in Beijing for the 2008 Olympics.
Her star is on the rise, especially for an Olympic year, so be ready for her before she breezes right past you in her super speeder. She also knows how to work them tights.
15. Lolo Jones: Hurdles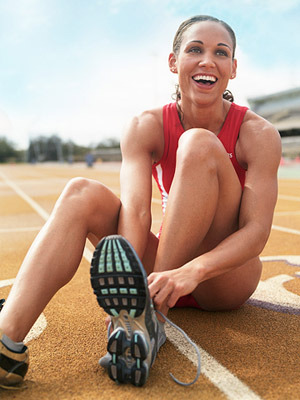 If you thought pole vaulting was the toughest sport in the world, you ain't seen nothing yet.
Lolo Jones is one of the best in the world in the hurdles because she can run fast and jump over obstacles at the same time. Sounds easy? You try doing it sometime. I can bet you will not even be able to jump over one of those hurdles let alone do it in a race.
14. Misty May-Treanor and Kerri Walsh: Beach Volleyball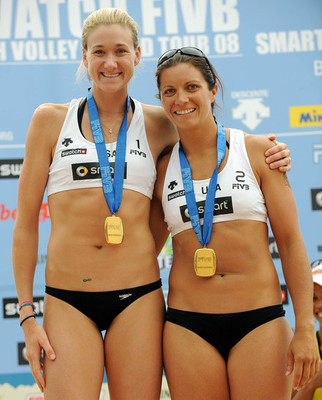 There has never been, nor will there ever be, a better pair of beach volleyball partners than Misty May-Treanor and Kerri Walsh. They took domination to a whole new level in 2008.
They will be underdogs going into London in 2012 however, thanks to a duo from Brazil. But that is nothing to be ashamed about. They had not played together for two years before reuniting this past year. They will be just as good as they were in Beijing, and to think otherwise, well, that just makes you silly.
13. Jessica Ennis: Track and Field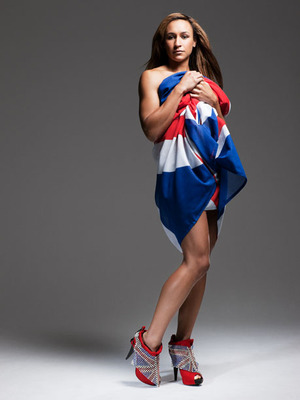 Can you name the one person who has been the world's highest rated heptathlete for the past three years?
Yep, Jessica Ennis has been the No. 1 ranked heptathlete since 2011 and should carry that momentum into London next summer to capitalize on her skills and nab the gold medal. She will have some stiff competition, but with her incredible three-year run she is having, she should have no problems.
12. Leryn Franco: Javelin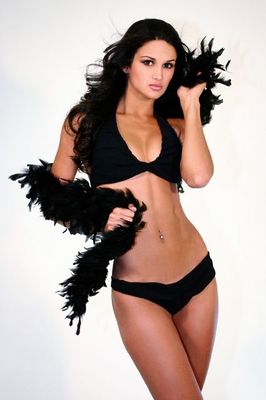 Leryn Franco needs no introductions on this site. She has been featured in our posts more times than Kim Kardashian on E!
And why not? She is a gorgeous, tall, dark-haired, javelin queen. She went from the track to the catwalk overnight and has become one of the world's biggest athlete-turned-model.
There is a good chance we will not be seeing her in London this year, but if we do, now that she has all the love and support of the Bleacher Report family, myself included, she will be the queen of 2012.
11. Dominika Cibulkova: Tennis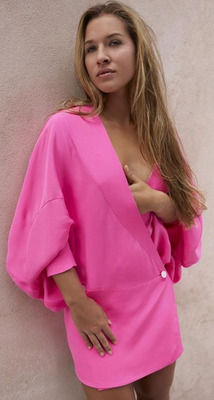 Of all the tennis pros in the world, Dominika Cibulkova has to be the hottest unknown.
She is currently ranked 17th by the WTA. Her biggest and best feature is not her looks, it's her two-handed backhand. She could knock a horse off its hooves with that thing.
10. Hope Solo: Soccer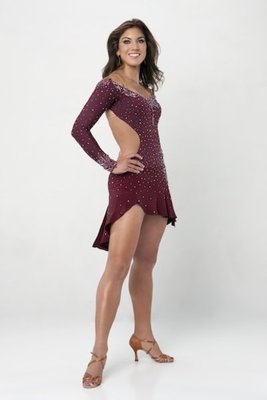 2012 is going to be the biggest year of Hope Solo's career. This is when she will capitalize on her fame and solidify her spot among the elite female athletes in the world. She just has to maintain her fame and continue down the path she is already paving.
If she stays relevant long enough in 2012, when the Olympics roll around we will be waiting for her to push it to the next level and hopefully bring home another U.S. gold medal.
9. Alona Bondarenko: Tennis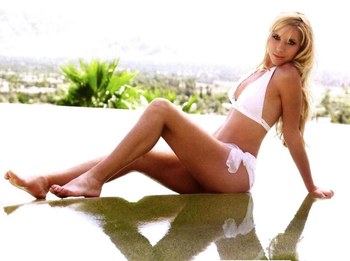 There is a constant story I like to tell and it involves the women of Ukraine. All of the women in Ukraine remind me of another country, Brazil. They are all beautiful. If you ever wanted a beautiful woman and had trouble finding one in the states, head over to Kharkiv and try it out sometime.
You might even walk away with Alona Bondarenko's sister, another professional tennis star.
8. Christina Vukicevic: Hurdles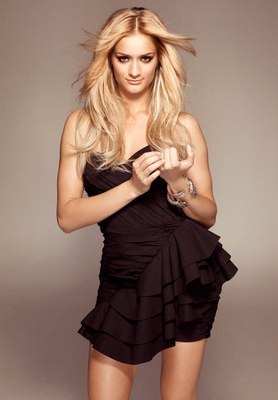 Christina Vuki..Vukic…Vukicev…
Can we just call her Christina? Well, get ready to experience some Christina power next year at the 2012 Olympics when she brings her hurdles skills to the games.
She is more than just a pretty face who is mediocre at hurdles—she is really good…even if her last name is harder to pronounce than a Russian woman.
7. Logan Tom: Volleyball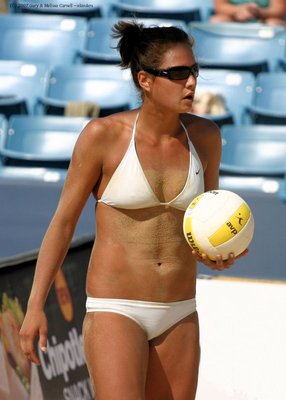 She's baaaaaaccckkkk!
Logan Tom, oh how we missed you since 2008. It has been far too long since we have been graced with your presence. We, the people of the United States of America, have waited and waited and waited, but 2012 will finally bring you into the spotlight.
We have been right here waiting for you Logan, welcome back.
6. Josefine Oqvist: Soccer
Josefine Oqvist is a Swedish soccer star with blonde hair and blue eyes to go with an amazing body. Do they make women any different in Sweden?
I have seen many photos and read many books. Maybe not read so much as looked at photos. But I have still seen the women out of Sweden and the rest of this world should salute them all.
5. Sara Galimberti: Track and Field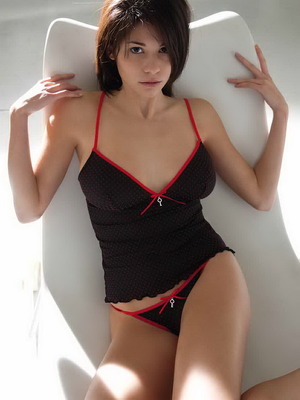 As long as the internet exists, I will continue to push Sara Galimberti down the throats of the American people. She needs to be noticed by every red-blooded American male. She is a stone-cold hot Italian chick who also does a little running for her country.
Maybe a photo gallery, thanks to Barstool Sports, of her beautifulness would help. Yes, that is not a real word, but Sara is so damn hot, she makes me want to make up a whole new language.
4. Stephanie Rice: Swimming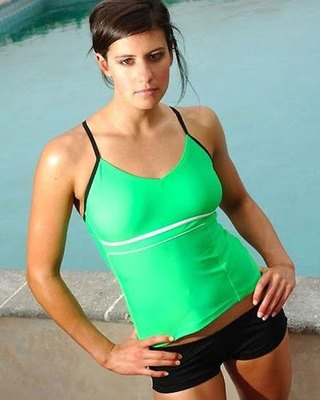 If you read my work, you have already met Stephanie Rice, as she has been, and always will be, a favorite of mine.
She has been named an exotic hottie, a sexy under 25 years old hottie and her sexy body, hair, smile and legshave all been discussed in my articles at one point or another. Either I really like her or she is just that hot. I would go with both.
3. Melanie Adams: Pole Vaulter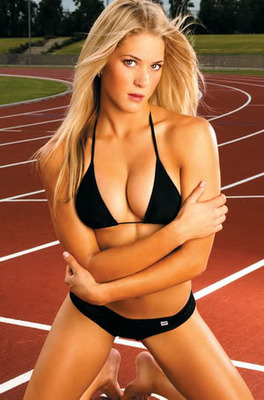 In Australia, the big sports are soccer and rugby. Not too many people follow pole vaulting. If they did, they might be surprised to find a few hotties from Aussie land.
Tatiana Grigorieva and Melanie Adams are two of the sexiest women on the planet and they both are Australian pole vaulters. The difference is that Melanie Adams will soon be making the news when she heads to London to try for the gold medal.
It does not hurt that she is so beautiful.
2. Alex Morgan: Soccer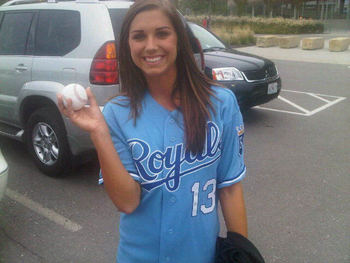 Alex Morgan has had one of the greatest years in recent female soccer history. She became known around the world as one of the fastest and most talented players for Team USA after scoring a few goals in the FIFA World Cup Finals this past summer.
She was well known around the sports blogging world already, and her mugshot was pasted all over the internet. We were all just waiting for her to explode, and then she did.
2012 will be her year, just like Hope Solo, to capitalize on her fame and continue her successful run with Team USA soccer.
1. Sophie Horn: Golf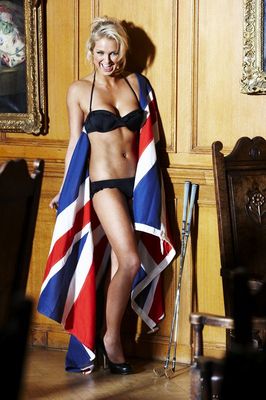 We will have to wait until 2016 for golf to be reinstated as an Olympic sport, so do not be looking for Sophie Horn in London this year.
In the meantime, watch out for her on the links, in the gym or on a billboard, as the model/golfer/fitness trainer is constantly working on her next project. Although you might not know her yet, you will before the end of 2012, fact!